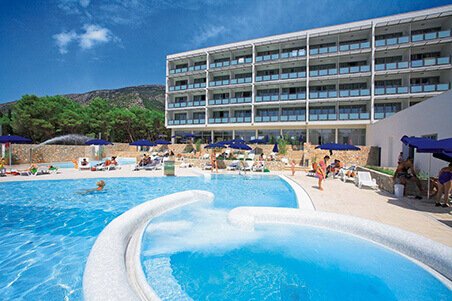 Hotels
Reservation of accommodation in hotels. Find a hotel that meets all your needs!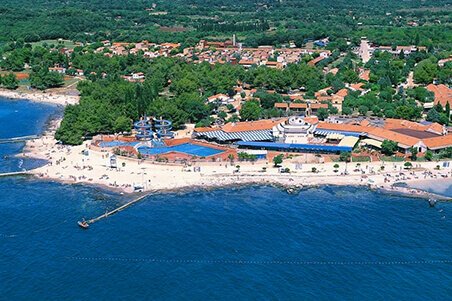 Tourist resorts
Tourist resorts and vacation rentals are the perfect choice for your accommodation.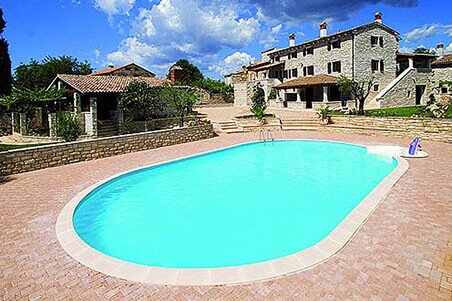 Luxury villas and houses
Wide selection of luxury villas and houses with swimming pool. Experience an unforgettable holiday!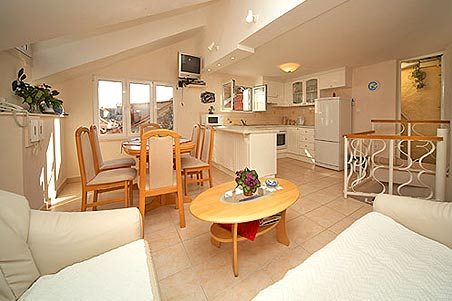 Private accomodation
Large offer of private accommodation where you will find an oasis for yourself!
If you are interested in cooperation send us your contact information, and we'll get back to you with our offer and terms of co-operation in the shortest possible time.
Choose your destination
Surrender to search for your ideal accommodation.
Beautiful scenery, pleasant environment and accommodation be your choice for a perfect holiday!
Restaurant Viking, Kanfanar

Restaurant Viking is located in an attractive location in the Lim Fjord in the pristine nature reserve on the west coast of the Istrian peninsula. The restaurant belongs to a group of 'best restaurants in Istria', and the reason for this is a lot. Lim is 12 km long and there is fish and shellfish farms, which dates back to Roman times. The restaurant is modernly equipped and integrated with nature. If youre wondering where you can taste the fish and meat dishes, where to eat or where to eat quality fresh fish, where to go to lunch or dinner, or where a quality lunch or dinner, at the 'Viking' youre in the right place. Delicacies - fish dishes prepared in the kitchen of this restaurant, you will surely remain in your memory. The special atmosphere of a terrace overlooking the sea, which is only 30-meters, and a kitchen that is after 50 years based on simple and delicious way of cooking. Large selection of fresh fish and shellfish prepared in such a way that will always give everything smells and tastes of the sea, and served some 70-odd wines will surely drive you to once again return to the Lim and rates with nature. Distance from the nearest marina restaurant was only 7 nautical miles. Phorylation of the channel is very interesting tourist destination, especially for those arriving by sea, excursions with boats, with yachts, but also for organized excursions with bus ... The restaurant has 190 seats of which 110 seats in the restaurant, and the remaining 80 seats, on the beautiful terrace overlooking the sea. For this reason, we note that we are ready for various events, weddings, receptions, birthday, christenings.... Welcome and good appetite! business hours every day From 11:00 to 23:00 hours Lunch each day From 16:30 to 18:00 hours

H-Dent dental practice Habijanec, Rovinj

The H-dent dental clinic is fully equipped with all the necessary dentistry and diagnostic instruments, enabling simple and quick diagnosis of dental problems. It also allows H-Dent to perform swift, high-quality dental treatment achieving optimum results for its patients. This dental clinic in Croatia boasts digital radiovisiography, apex locator, root canal machine, and thermafill canal filling etc. H-Dent also works closely with several top dental laboratories in Croatia. These laboratories achieve excellent results in prosthetic rehabilitation for H-Dent's patients using state-of-the-art materials and technology. 35 years of dentistry in Croatia H-Dent offers 35 years of dentistry experience, along with low cost dental treatment in Croatia. The dental team in the H-Dent clinic consists of 2 dentists.   Dr Željko Habijanec studied at the University of Zagreb, School of Dental Medicine in 1968 and went on to work in a medical centre in Dubrovnik; in 1991, he  opened his own private dental practice in Dubrovnik. The practice then moved to Rovinj, Croatia in 1993. He still regularly attends professional courses and seminars, and follows all the current innovations in dentistry. Dr Ivan Habijanec studied at the University of Zagreb, School of Dental Medicine in 1999 and after graduating continued his professional education, studying for his masters in Zagreb School of Dental Medicine. Since 2007, he has been working in H-dent dental practice in Rovinj, Croatia.  Dental treatments in Croatia Conservative treatment: o With aesthetic composite fillings (one, two and three surface) Endodontic treatment: Root canal machining treatment Termafill canal filling Root canal manual treatment (step back technique) Canal filling by lateral condensation Tooth whitening Desensitisation Fluoridation Preventive fissure sealing Plaque removal and polishing (using ultrasound and profiflex) Simple extraction and complex extractions including: Alveotomies Mobile dentures Total dentures (acryl and metal) Partial dentures (metal) Combined prosthetic treatment: Fixed and mobile treatment with different types of connections (CK anchors, Dolder bars, telescopes etc.) Fixed prosthetic treatment: Metal-ceramic crowns and bridges Zirconium-ceramic crowns and bridges Non-metal ceramics Ceramic veneers Implantology: Implant mounting with fixed and mobile prosthetic treatment on implants.    Tourism services: H-Dent offers various dental tourism services such as: Flights andtransfer from any surrounding airport (Trieste, Venice, Pula, Rijeka, Zagreb, Ljubljana...) Assistance with finding different types of accommodation. Rovinj has 3, 4 and 5 star hotels which offer comfort and luxury for reasonable prices, or even spacious private apartments.   Call for an appointment. Come home with a new smile!

Private Dental Practice dr. Ida Sapun Bazant, Zadar

 Dental practice Dr Ida Sapun Bažant offers dental services: – Preventive dentistry – Conservative dentistry– Endodontics– Working with children – Periodontologic dentistry – Fixed prosthetics – Mobile prosthetics – Oral surgery – Cooperation with the oral surgeon, booking an appointment directly from the surgery – Aesthetic surgery: dental jewelry (zircon), teeth whitening, composite upgrades teeth, inlay, Onley, owerlay (composite, ceramic, gold) – Plaque removal by hand or PIEZON (ultrasonic vibration without damaging tooth enamel) to the wishes of the patient. Dental practice Dr Ida Sapun Bažant   uses materials that are internationally recognized, the finest products of Western European, American and Japanese manufacturers. Dental practice Dr Ida Sapun Bažant provides various methods of plaque cleaning of  and all deposits on tooth enamel. Air Flow method removes all layers from the tooth surface enamel strong stream of air and water, no mechanical damage, thoroughly clean all parts of the teeth that can not be cleaned toothbrush or any other cleaner teeth. The regular maintenance of tooth surfaces clean, smooth and glossy prevents the plaque buildup  on the teeth. This method is recommended for all patients who have a natural tooth enamel. Provides excellent massage the gums and improves blood circulation and reduces inflammation. Fillers – hyaluronic acid Dermal fillers are injectable preparations through special micro needles entries in certain zones – reduced wrinkles, refresh the appearance of the face, fill volume cheekbones, the zone where there was atrophy of tissue, mostly lips or cheeks. Hyaluronic acid is for many years the gold standard for injection therapy and it is a stabilized hyaluronic acid that produces biotechnological processes in strict laboratory conditions. Because of its high stability and non allergic characteristics hyaluronic acid is extremely biocompatible with human tissue and can be applied without prior sample applications. The very process of injecting hyaluronic acid is minimally uncomfortable, considering that the said preparations containing a local anesthetic, and the result is visible immediately after application. Because  the hyaluronic acid stimulates the body and increases collagen production,  the result can still be further reinforced in the coming weeks.

Private dental practice dr. Ceric-Dzaferovic Lejla, Sarajevo, Bosnia, Sarajevo

You will always find us in good mood,willing to listen and solve your problem best way possible!We dedicate special attention to each patient,because satisfied patient is our greatest success.The ordination is equipped according to all European standards.We tend to create relaxed environment for the patients,so they would feel pleasant and relaxed.We offer all kinds of dental services,which are provided by the general dentistry doctor and the team of specialists: oral surgery specialist,periodontics specialist,orthodontic specialist,dental implant specialist and oral diseases specialist.Some of the services with attractive prices we provide are:Composite filling                                                                  20-30 EUROne root tooth endodontic treatment                                     40  EURTwo roots tooth endodontic treatment                                   50  EURThree roots tooth endodontic treatment                                60  EURTeeth whitening                                                                        250  EURSimple tooth extraction                                                             15  EURComplicated tooth extraction                                                   25  EURWisdom tooth surgical extraction                                         100  EURImplant with metal ceramic crown installation                   750 EURMetal ceramic crown                                                               125 EURNo metal zirconium Cad-Cam ceramic crown                  225 EURTotal prosthesis                                                                       150 EURPartial prosthesis                                                                    250 EURCeramic veneers                                                                    225  EURSubgingival teeth curettage                                                    15  EURUltrasound teeth cleaning with polishing                            30  EURAir flow teeth cleaning                                                              25  EUR

Adventure park Glavani, Istria, Croatia, Barban

Are you looking for an interesting, fun-packed and enjoyable day out in the beautiful interior of Istria? Do you want adventure and excitement for you and the children? At Glavani Park near Barban in Istria there is all the fun and adventure you require.  Not only does the park have the best and largest high ropes climbing course in Croatia, it also has an animal park for everyone to see goats, sheep, chickens, rabbits and all the babies plus, of course, the ever friendly dogs and cats! Glavani Park is situated on the edge of the quiet village of Glavani 6km from Barban on the road towards Vodnjan (10km) and well signposted from the main Pula – Labin road at the Manjadvorci junction.When you arrive in Glavani, a small picturesque village in the Council of Barban, prepare yourself for a dose of adrenaline that will stimulate and excite all your senses. Try something fun and new – visit the best adventure park in Istria – Glavani Park. All those who are brave enough, (or feel like they want to be brave :-) ), regardless of their age, will enjoy themselves swinging about amongst the trees. Glavani Park started business on June 1st 2011 and immediately became a success for the Croatians and tourists alike. The Park has been certified by the European Ropes Course Association and is inspected every year to ensure that it continues in its very high safety standards. Awarded a "Certificate of Excellence" for 2012, and again in 2013, 2014 and 2015 by the world's largest travel website "Trip Advisor" it is rated as the number one attraction in Istria. The staff are professional, qualified and extremely friendly. Building on this success Glavani Park doubled in size for the 2013 season adding two new major attractions: Firstly a fantastic 11 metre high 3G swing which is constantly voted the best thrill and adrenalin rush in the park: Secondly, the Devil's Causeway which is the huge suspension bridge across the valley consisting of four ziplines, a long skateboard run, three mad crossing bridges and the highlight; a 35 metre long monocycle ride 12 metres above the valley floor! One zipline takes you 120 metres along and 20 metres above the valley floor! For 2014 we have an amazing Zorb ball run. Two people sit safely inside a plastic ball which is then rolled down the hill into our valley. Total length of the road down is 100 metres and you drop 12 metres in height along the way! A wonderful feeling of no control makes this adrenaline rush unique.The adventure starts when our top quality harness is fitted on to you by our qualified instructor. Then you have a brief, but thorough, training session on ground level to ensure you understand all the safety and operational features of the gear and the park. Once ready you will spend just a few short minutes on the two metre high "yellow level" training and small children's course before deciding if you are ready to start the 6 metre high "blue level" course which, after 10 great and variable games, ends on the thrilling 113 metre long zipline! Now you are ready for the 10 metre high "black" course with even bigger and more taxing games, which ends with another trip down the 113 metre long zipline! Rest! Enjoy a drink and ice-cream. Now tackle the Devil's Causeway the huge suspension bridge, climb again on to the black level for three games before diverting on to the 80 metre long zipline which guides you towards the suspension bridge! Enjoy spectacular views and the wonderful feeling of flying through the wind! Be free and full of adrenalin in a truly safe environment! Test your nerve. You'll be pleased you did! Perhaps now is the time to experience the zorb ball adrenaline rush! To end your day with the best memories and thrills, we challenge you to go 11 metres high and drop from the skies on the 3G high swing. Experience making the silliest face and screaming with the shrillest voice while shooting down close to the ground before whizzing up to the skies again on this fantastic swing, it is truly the "Icing on the cake!" Experience the thrill of a day out at Glavani Park. You will not regret it. Routes for for all ages We have prepared three routes for you, yellow, blue and black each increasing in height and in difficulty and, as a great bonus, both the blue and black routes end by enjoying the 113 metre zip line plus 3G Swing, Devil's Causeway and Zorb. Working time! So come and enjoy yourselves in a fun adrenaline adventure in the best Istrian adventure park – Glavani Park. Open 9am – 8pm every day including Sunday :-) If you want to try all the routes then you need to arrive by 5pm! How to find us? You'll find Glavani Park on the road between Vodnjan (10km) and Barban (6km) or turn off the main Pula – Labin road at Manjadvorci and follow road to the end and then turn left for Vodnjan! Prices INDIVIDUALS training, yellow route, blue route: 100 kn training, yellow route, blue route, black route: 120 kn zip lines: 40 kn 3G high swing: 40 kn Devil's Causeway: 60 kn training, yellow, blue, black route + Devil's Causeway: 180 kn training, yellow, blue, black route + 3G high swing: 160 kn zorb ball: 50 kn 1 person, 80 kn 2 persons complete program: 230 kn KIDS (UNDER 10 YEARS OF AGE) training, yellow route, blue route: 50 kn training, yellow route, blue route, black route: 60 kn training, yellow, blue, black route + Devil's Causeway: 120 kn training, yellow, blue, black route + 3G high swing: 100 kn zorb ball: 50 kn 1 person, 80 kn 2 persons complete program: 170 kn FOR GROUPS OF AT LEAST 10 PEOPLE training, yellow route, blue route, black route: 80 kn zip lines: 30 kn 3G high swing: 30 kn Devil's Causeway: 40 kn zorb ball: 30 kn 1 person, 60 kn 2 persons training, yellow, blue, black route + Devil's Causeway: 120 kn training, yellow, blue, black route + 3G high swing: 110 kn complete program: 180 kn KIDS (UNDER 10 YEARS OF AGE) training, yellow route, blue route, black route: 50 kn training, yellow, blue, black route + Devil's Causeway: 100 kn training, yellow, blue, black route + 3G high swing: 90 kn zorb ball: 30 kn 1 person, 60 kn 2 persons complete program: 150 kn   Glavani park is the ideal place to escape from your stresses and daily problems. You will forget all of these when you are climbing high amongst the treetops. Glavani park provides entertainment for the whole family who can participate, regardless of age!

Sky riders paragliding Croatia, Bjelopolje

BJELOPOLJE - KORENICA Bjelopolje je naseljeno mjesto u sastavu općine Plitvička Jezera, ...Nadomak Nacionalnog parka Plitvička jezeraDo teritorijalne reorganizacije u Hrvatskoj nalazilo se u sastavu stare općine Titova Korenica  Altitude 1203m (max. height difference 592m for this site Takes wind directions SE, S, SW, W includes transportation Zagreb – take-off location – Zagreb GRATIS VIDEO - free video of the flight coordinates: https://goo.gl/maps/hijLZzkku512  video sa bjelopolja :  https://youtu.be/tw3D8RwIaX8  https://youtu.be/N3OP_zhj330 https://youtu.be/7LuNVZBgIpo  https://youtu.be/pw1PQ-C-a9U 

Sky riders paragliding Slovenia

AMBROŽ - KRVAVEC Altitude 1681m (max. height difference 1263m for this site) Takes wind directions E, SE, S, SW, W  Includes transportation Zagreb – take-off location – Zagreb GRATIS VIDEO - free video of the flight

Sky riders paragliding Crikvenica, Croatia

Tribalj is a village in the hinterland of Crikvenica, in a Vinodol municipality. The village is located at the crossroads between Drivenik and Grižane. The town has 612 inhabitants, according to the 2001 census. It belongs to the post office 51243 Tribalj. In Tribaljs hamlet Stranger discovered the old Croatian necropolis, which dates from the end of August. XI. century. 1804. Tribalj becomes the parish of Blessed Virgins Visitation to Elizabeth, the church is expanded and the end of the 19th century of companies Ferdinand Stuflesser gets the main altar and the pulpit, then 1902 two side altars of Tyrolean workshops Ferdinand Stuflesser, place St.Ulrich, South Tyrol. In Tribalj there is artificial lake: Tribaljsko lake. TRIBALJ - CRIKVENICA Altitude 773m (max. height difference 707m for this site) Takes wind directions E, SE, S, SW, W Includes transportation Zagreb – take-off location – Zagreb GRATIS VIDEO - free video of the flight
Hotel Maxim, Bozava

The hotel Maxim****  is luxuriously decorated hotel located on the coast. All rooms and apartments are spacious, modernly decorated, with balcony overlooking the sea, air conditioned and have satellite-TV, telephone, minibar, refrigerator, safe, shower / toilet with a hairdryer. Possibility of using baby cot on request and will be extra charged. The hotel has elevators, currency exchange office, free Wi-Fi zone at the reception, restaurant with large terrace, coffee bar, tavern & pizzeria, offers laundry and ironing service (extra charge) and free parking (without supervision). Right next to the hotel is the outdoor swimming pool with free beach chairs and sun umbrellas (limited number). Children's playground is next to it with its various free contents. Breakfast and dinner (buffet) are included in the accomodation price. Once a week Dalmatian evenings are organized with local specialties and acapella singing. Pets are not allowed. The hotel tourist train that goes to the beach Sakarun is extra charged.   Hotel apartments/suite – type 2 x 1/2 for 4 persons All apartments are spacious and luxuriously furnished. They have two double rooms, a bathroom with a shower, a living room and a balcony with a sea view. Hotel apartments/suite – type 1 x 1/2 for 2 persons All apartments are spacious and luxuriously furnished. They have a double room, a bathroom with a shower, a living room and a balcony with a sea view. Half-board Rich buffet breakfast and dinner. Sports: - two tennis courts with artificial grass (night illumination) - a fitness centre with sauna, whirlpool and massage, - bicycle tracks, a bicycle rental - table tennis Gratis offers: - using swimming pool (sunloungers, parasols) Pets Pets are not allowed. HOTEL BEACH: Along the greater part of the Božava coastline there are flat rock slabs reaching deeper into the sea. They are ideal for sunbathing. For those who like seclusion, thanks to the terrain configuration there is no risk of being disturbed. NUN'S BEACH (Opaticina plaža): It is a bay covered with small pebbles and the beach is right next to the Hotel Village . You can go there for a swim or play basketball/volleyball on the courts. SAKARUN BEACH: This long beach is open to the sea. It has fine white sands that give the water a unique turquoise colour. As far as 400 metres from the shore the seawater reaches only up to your waist. There is also the Long Island Cocktail Bar that would help quench any tourist's thirst.Božava plc. own have three modern hotels with *** stars: - The LAVANDA hotel (88 stylishly furnished rooms) - The Family hotel AGAVA (19 stylishly furnished rooms) - The Family hotel MIRTA (18 stylishly furnished rooms).

Hotel Sol Garden Istra, Umag

An array of events in a perfectly decorated highly comfortable setting created by combining Istrian with contemporary themes... The newly built sport & family hotel Sol garden Istra  with an impressive water park offers you the most beautiful dynamic family holidays or active sports holidays... A beautiful seafront promenade takes you to the historical town centre of Umag... Sol Garden Istra hotel is located 3 km from the town centre of Umag, in Katoro tourist resort, 200 m from the sea.   otel Sol Garden Istra is one of the best family – friendly hotels in Croatia! Beautiful interiors, good food, spa treatments and high quality service, alongside all the elements that make your life easier as parents and ensure your children have a fantastic time! Enjoy with your kids at the outdoor swimming pool complex with many attractions, or at the new Aqua Park with water slides and water playground! Melia Hotels Activities Team will take care of the entertainment, organizing exciting daytime and evening activities for children of all ages!   The Body Holiday boasts the largest relaxation space in Umag and is a perfect place to experience the charm of local products. Choose your favourite body care treatment based on honey, olive oil, lavender or truffles and awaken all your senses. Relax with water massage in the largest whirlpool, warm up in one of our saunas and regenerate your muscles with our sports-revitalizing treatments. Experience total relaxation in The Body Holiday wellness centre open almost all year round. Wellness area consists of: 800 m2 of area on 2 levels Sauna park (Turkish, Finnish, Bio-sauna with aromatic herbs, wet salty sauna) Cooling system Whirlpool for 12 persons Relaxation room Indoor half-Olympic pool (closed during high season) Big fitness studio A series of stimulating, revitalising treatments and sports and medical massages

Solaris Kids Hotel Andrija, Sibenik

Situated within the Solaris Beach Resort, Hotel Andrija is surrounded with Mediterranean greenery, while the 4-km long beach is just 50 metres away. The hotel has a restaurant, children´s playroom, outdoor pool and childrens pool. All rooms are air-conditioned and come with satellite TV, balcony and a minibar. The bathrooms have hairdryers and toiletries. The hotel restaurant offers authentic Dalmatian cuisine as well as Mediterranean dishes. It includes a supervised children´s corner with a mini-buffet and kids´ menu. There is also a free-to-use video game room, as well as a separate children´s bar with non-alcoholic cocktails. Hotel´s interior, as well as exterior, follows an underwater theme, including mermaids, dolphins, sea turtles and other motifs. The hotel reception features a smaller children´s reception where the young guests can enjoy a volcano-shaped slide while being entertained by the hotel mascot. The Solaris Family Beach is just a few steps away and it offers a children´s playground. The first water park on the Adriatic Sea, offering many attractions, is near the hotel. The town of Šibenik, only a short ride away, is a good starting point to explore the national parks of Kornati, Krka, Plitvice Lakes and Paklenica, which are within 10 to 40 km away.

Holiday house with pool 30 m from the beach Okrug Gornji, Ciovo, Trogir

This oasis exudes peace and tranquility, because the surrounding bay has no facilities which would disturb its harmony. Villa with pool on Island Ciovo is situated only 30 meters from the beach, covering the area of 3300 m2, surrounded by a low stone wall in traditional style and by olive trees, figs, lemons and oranges. The view from Villa is magnificent, you can see the islands of Trogir archipelago such as Fumija (opposite the villa), Drvenik Mali and Veli, as well as the island of Solta.Next to the beach there is a stone pier, where you can dock with a smaller boat. The villa can accommodate eight people, and consists of four elegant rooms, two toilets, kitchen and living room. In front of the villa there are two terraces of 90 m2, one of which is covered and has a table and chairs for relaxation or a possible lunch/dinner. On the other terrace under olive trees there is furniture with small tables. In front of the large terrace there is an outdoor pool, with deck chairs, of course. On the left side of the villa there is a covered stone barbecue available with a large bar. The villa is located in an area where there is no connection to electricity, therefore supply is provided by means of solar panel. Water is used from the tank (water tank), while for cooking there is gas. The villa is equipped with air conditioning and Wi-Fi signal.

Relax holiday house with pool and sauna, Bosiljevo, near Kupa river, Croatia, Bosiljevo

Nadomak Zagreba te u neposrednoj blizini Karlovca smjestila se Relax kuća za odmor u mjestu Spahići, općina Bosiljevo. Kuću izuzetno pristupačnom čini njena povezanost sa autocestom A1, udaljena je svega 6 kilometara nakon izlaza Bosiljevo. Kuća se smjestila u blizini rijeke Kupe (nude se razne dodatne aktivnosti, uređeno kupalište) a na svega 2 kilometra je granica sa Republikom Slovenijom (skijalište SC Bela). Kuća je moderno uređena, niskoenergetska sa centralnim grijanjem na pelete. Sastoji se od tri spavaće sobe za ukupno 6 osoba, dječjim krevetićem po potrebi te dodatnim ležajem, opremljene TV/SAT i videotekom, 2 kupaonice, 3 sanitarna čvora, relax prostorom sa jacuzzijem za 4 osobe, finskom saunom te podnim grijanjem, svaki gost dobiva na korištenje ogrtač i jednokratne papuče. Dnevni boravak je moderno uređen i krasi ga prekrasan pogled na prirodu i vanjski bazen. Kuhinja je opremljena sa svim aparatima, vrlo je komotna i praktična. U prizemlju kuće nalazi se zajednički prostor namijenjen za druženja, on je zaseban te ima svoj hladnjak, perilicu posuđa, TV sa bluetooth zvučnicima i tabletom za puštanje glazbe. Djeca također imaju svoj vrtni kutak sa kućicom, toboganom i ljuljačkama. Vanjski bazen za 8 osoba i sunčalištem. Kao dodatnu uslugu za potpuno opuštanje, uz predhodni dogovor, moguće je dogovoriti kozmetičke tretmane u samoj kući poput: Masaže cijelog tijela (ulja po izboru) Masaže leđ Sportske masaže Medicisku pedikuru Mezoterapiju lica (tretman sa ampulama za duboku hidrtizaciju, akne, bore, tretman ukljućuje piling i masku) Mezoterapiju tijela Piling tijela, maska od zelene gline za uklanjanje toksina... Također je moguća dostava iz obližnjeg restorana, vrhunskih gastronomskih delicija, sve po vašim željama i izboru.

Villa with pool in Kastel Luksic, Split, Croatia, Split

Modern villa with big pool situated under the mountain of Kozjak overlooking Kaštela bay, 10 minutes from Trogir (UNESCO city), and 20 minutes drive from Split. Villa has fully equipped kitchen (kettle, toaster, stick blender, food processor, electric stove, microwave, dishwasher), dining and living room (one sofa bed 140cm and one couch) and bathroom with jacuzzi tub on the first floor. Living room has smart TV.On the second floor there are 4 bedrooms (1st has 200x200 cm bed, second 160x200 cm, 3rd two beds 90x200 cm which can be combined into one bed, 4th single bed 90X200 and playroom) and a bathroom (with washing machine). We can provide children accessories if needed: child bed, baby chair, baby tub. Rooms are equipped with two bed settings for each bed and four towels per person. Whole Villa is air conditioned, there are two air conditioning units on the first floor and one on the second.Villa has one big terrace on the first floor and three on the second, all terraces are overlooking on the beautiful Kaštela`s bay and town Split. There is a barbecue place with big dining table in the arbor in the back of the house. Guests can enjoy sitting in the arbor by day with great view on the Kozjak mountain or by night. There is 10x5m big pool near the arbor. Season vegetable is offered to guest to pick from our garden, we can also provide fresh sea food, fresh meat and authentic Croatian products from local merchants (Croatian products). Villa has private parking for three cars. Guests have access to two floors of the house, back garden, terraces and parking.With extra charge hosts can provide transfer from and to the airport, bike or car rents.There is ferry port in Split from where guests can visit some of beautiful Croatian islands (Hvar, Brač, Šolta, Vis, Korčula...).